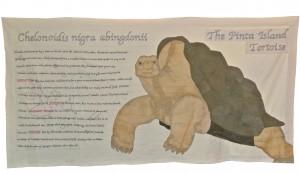 The death of Lonesome George was the catalyst for this project. George was a Pinta Island Tortoise (Chelonoidis nigra abingdongii). Long believed to be extinct, George's discovery in 1971 made him 'the rarest creature' on earth. Numerous attempts were made to mate George with similar subspecies, but to no avail. On June 24th, 2012, George died, once again rendering the Pinta Island Tortoise extinct.
Interestingly, since George's death, juvenile tortoises have been found around Wolf Volcano on nearby Isabella Island with Pinta Island tortoise DNA in them. In the past, tortoises were often captured by whalers, seafarers, and even pirates as a convenient food source. The tortoises could live for well over a year with no food or water. It's very possible that those tortoises still alive after a long sea voyage, were returned to Isabella Island, the largest of the Galapagos Islands, where they bred with other subspecies. There may be a few of George's relatives alive after all.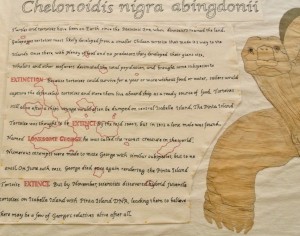 News of the hybrid juvenile tortoises was released while I was still working on the Martha panel. And since there is still hope for the Pinta Island Tortoise, his panel does not have the black mourning band that Martha's does. The panel base is unbleached muslin, embroidered and appliqued. The fabric for George was naturally dyed, but as I'm still learning and wasn't able to get it as dark as I would like, I re-embroidered for added color and texture. Here is Lonesome George's finished panel.